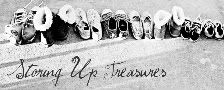 So I have discovered a few new (new to me) blogs that are worth mentioning. I love blogs that are real and honest and vulnerable. Maybe there are some out there who have it all figured out and have all the answers, but I appreciate those who are willing to share the journey along the way rather than just daisies, rainbows, and unicorns all the time. Those are folks from whom I can learn because they are willing to share their failures as well as their victories. So when I came across
this blog, Storing Up Treasures,
my heart just did a back-flip over her authenticity and true beauty. She is bold and graceful and honest, and I have loved every post I have read. Especially
this post
, and
this post
, and
this post.
And of course, through one great blog, you are bound to find several others. This one did not disappoint. I found two other blogs:
Small Things
and
Natural Suburbia
. They are both full of witty, crafty ideas for mothering, parenting, loving, living, etc. And they are both full of tutorials and beautiful photography.
My pastor's wife just started a blog, and I am over-the-top excited about it, as her honesty and love of Jesus combine in a very gracious and beautiful manner. I have so thoroughly enjoyed getting to know her, and have loved the thoughts that she has put out in the blogosphere. You can find her here, at
Living with Moxie
. She is truly an amazing woman of God, and I have much to learn from her.
So that's what I've got for today. Maybe tomorrow I can share about this crafty bug that I've got right now. I have an urge to knit something, or crochet and afghan, or sew an apron...or something! More on that later.